October 10, 1884

to

November 7, 1962
Eleanor Roosevelt, wife of Franklin Delano Roosevelt, was an author, activist, speaker, politician, UN ambassador, and vocal supporter of civil rights.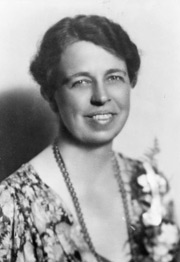 Anna Eleanor Roosevelt was born in well-known and wealthy family in 1884. Both of her parents were part of the New York's "high society". Her mother died from diptheria when Eleanor was eight. Her father, whom she adored, died of alcoholism two years later.
Her grandmother sent her to Allenswood, a girls' boarding school in England, in 1899. The headmistress, Madame Marie Souvestre, chose Eleanor as a personal traveling companion in Europe and helped her develop confidence. She returned to the U.S. in 1902 for her society debut. Always self-conscious about her looks, she was a very uncomfortable during this time.
She married Franklin Delano Roosevelt, a distant cousin, in 1905. Her new mother-in-law was controlling and dominated the household even after Eleanor had given birth to her sixth child. Like all women of her class at that time Eleanor become involved with several progressive causes.
In 1921, Franklin contracted polio and became paralyzed. For the rest of his political career, he relied heavily on Eleanor's mobility. He taught her to observe social conditions during her trips throughout the country so that they could discuss them in detail upon her return. Following discovery on an affair Frankly had with a social secretary, their marriage became more of a political partnership of respectful friends.
When Franklin became president in 1933, Eleanor used her role as First Lady to raise awareness for groups marginalized by society. In 1936, she began writing a syndicated newspaper column called "My Day" in which she talked to people from all walks of life. After the war began, she visited the troops in the south Pacific, raising the spirit of the troops.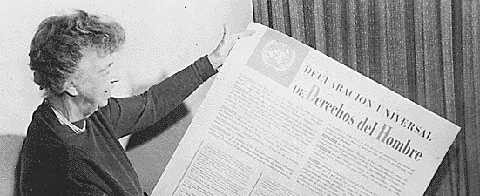 After Franklin's death from a stroke in April, 1945, Eleanor took a few months out of the public eye before accepting a role as one of the nation's delegates to the first meeting of the United Nations. She was elected to chair the committee that drafted the Universal Declaration of Human Rights.
She continued to travel, lecture, write, and serve on number committees. She stirred up controversy well into her 70's by vocally supporting civil rights - even receiving death threats from the Klu Klux Klan.
On November 7, 1962, Eleanor died at her apartment in New York City. She was 78 years old.
The purpose of life is to live it, to taste experience to the utmost, to reach out eagerly and without fear for newer and richer experience.

Eleanor Roosevelt