November 12, 1850

to

December 2, 1894
Robert Louis Stevenson wrote the classics Treasure Island, Kidnapped, and The Strange Case of Dr. Jekyll and Mr. Hyde, among many other novels and short stories.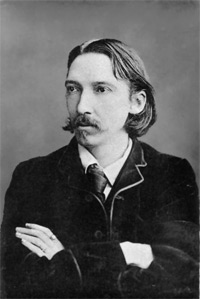 Robert Louis Balfour Stevenson was born in Edinburgh, Scotland, on November 13, 1850. Stevenson, like his mother, had a "weak chest" and was prone to extreme illness in the winter. Between trips his family made to warmer parts of Europe and bouts of illness, he attended school irregularly throughout his childhood. His poor health would trouble Stevenson throughout his life.
In 1867, Stevenson entered Edinburgh University to study engineering. He later switched to law. Although he graduated, he never practiced, since he had already decided that he was going to be a writer. His first paid publication was a travel essay entitled "Roads" that appeared in Portfolio while he was still at university.
He meets his future wife, Fanny, in Paris in 1877 and they marry 3 years later in California. Stevenson, Fanny, and Fanny's son Llyod returned to Scotland in 1880. The family moved frequently during the next 7 years, looking for a place that would suit Stevenson's poor health. He wrote his best known works during this time including Treasure Island, Kidnapped, The Strange Case of Dr. Jekyll and Mr. Hyde, and A Child's Garden of Verses.
Following his father's death in 1887, Stevenson set-out with his mother and family for the South Pacific by way of the United States. In June 1888, Stevenson chartered a yacht and with his family spent the next 3 years traveling around eastern and central Pacific. He would eventually purchase 400 acres on the Samoan island of Upolu and build a house where he would life and work until his death.
Stevenson died at his home in Samoa of a cerebral hemorrhage on December 3, 1894. He is buried at the top of Mount Vaea on Upolu in a spot that overlooks the sea.
This be the verse you grave for me:
Here he lies where he longed to be;
Home is the sailor, home from sea,
And the hunter home from the hill.

From "Requiem" by Robert Lewis Stevenson