Lois Ehlert has created and illustrated numerous children's books with bold, colorful collages.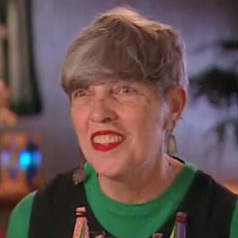 Lois Ehlert was born in Beaver Dam, Wisconsin on November 9, 1934. Interested in art from a very early age, she was encouraged by her parents who provided her with scraps of fabric, pieces of wood, and a private work area to keep her tools and materials. From the beginning she enjoyed the art of collage, which involves cutting and pasting materials
onto a surface to create pictures.
She graduated from the University of Wisconsin and the Layton School of Art and spent some years working as a graphic artist. She did graphic design and freelance illustration. She did some illustrations for children's books, but it wasn't until 1984 that she began experimenting with writing and illustrating her own books.
Ehlert's books typically have simple text with bold, distinctive collage illustrations. Colors are bright and engaging. Objects are often labeled using subtle typography, which beautifully blends into the overall design of the books.
"I choose the size for the book, select the type style and size, and integrate all elements on the page. That's the graphic designer in me at work…If I do my work successfully, it will look simple. With paper and glue , and my trusty scissors, I express the simple things of life — the homely, ordinary subjects that I love."

Lois Ehlert in Children's Books and Their Creators