November 5, 1854

to

March 6, 1932
John Philip Sousa was a world famous band leader who 137 marches, including the official march of the United States, "Stars an Stripes Forever."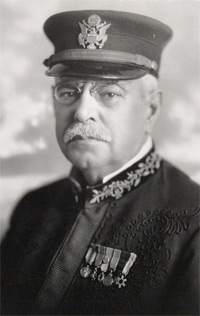 John Philip Sousa was born in Washington, DC in 1854. His father played trombone in the U.S. Marine Band, so he was always surrounded by military band music. Around the age of seven, he began formal music lessons that included violin, piano, flute, coronet, trombone, and alto horn.
At age thirteen, Sousa tired to run away to join a circus band. He then enlisted so that he could be apprenticed to the U.S. Marine Band. He remained with the band through 2 enlistments.
From his honorable discharge in 1874, he began conducting at a number of places, including the Washington Opera House.  He also played first violin at the Centennial Exposition in Philadelphia until 1878.
Sousa married in 1879. A year later, he re-enlisted in the Marines as a principal musician and for the next 12 years he conducted "The President's Own" U.S. Marine Band. He also started gaining world fame for his original compositions.
Honorably discharged from the marines for the third and final time in 1892, Sousa forms "Sousa's New Marine Band," later known as simply "Sousa's Band." They perform throughout the country and eventually do three tours of Europe between 1900 and 1905. Starting in 1910, Sousa and his band did a world tour that included Canada, South Africa, Australia, New Zealand, and the Canary Islands.
He continued to conduct touring bands until the end of his life. He also championed music education programs and composers' rights.  During his lifetime, he composed 137 marches, 15 operettas, 11 suites, 4 overtures, 17 other symphony or instrumental pieces.  He also wrote 77 songs and other vocal pieces.
Sousa died in Reading, Pennsylvania on March 6, 1932 following a band rehearsal. The final piece of music he conducted was his own "Stars and Stripes Forever," perhaps the most famous march ever written.  It is recognized by Congress as the official march of the United States.