March 2, 1904

to

September 24, 1991
Dr. Seuss and his many zany characters have made learning to read an exciting adventure for millions of children.
Theodore Seuss Geisel, called Ted by his friends and family, was born in Springfield, Massachusetts, on March 2, 1904. His father and grandfather were brewmasters. Ted and his siblings had a happy childhood despite challenges for the family because of World War I (their German heritage) and Prohibition (occupation). He credits his mother with his ability and desire to create rhymes.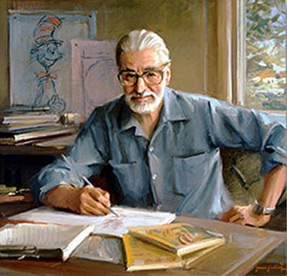 The transition of Theodore Geisel to Dr. Seuss began while he was attending Dartmouth and used aliases in order to evade punishment for publishing his cartoons.
Ted Geisel studied literature at Oxford where he doodled a lot and met Helen Palmer. She encouraged him to pursue his love of drawing; they married and moved to New York in 1927. His career as an advertising cartoonist started with the campaign for Flit insecticides where his weird creatures and tag line "Quick, Henry, the Flit" became classics. This work paid the rent for the next 30 years.
And to Think That I Saw It on Mulberry Street (1937) was his first children's book. He published his fourth children's book in 1940, and started on his fifth, McElligot's Pool, in early 1941. Deciding to convince his fellow citizens that they needed to prepare for war, Seuss set it aside and began his twenty-one-month career as a political cartoonist, publishing over 400 cartoons for the liberal New York newspaper PM between April 1941 and January 1943.
After the war, he brought his political message to his children's books. A tale of a tyrannical turtle who builds his empire on the backs of his suffering citizens, Yertle the Turtle (1958) took its inspiration from the rise of Hitler. Seuss's opposition to anti-Semitism inspired The Sneetches (1961), a story in which star-bellied Sneetches discriminate against star-less Sneetches.
A 1953 visit to Japan served as part of the inspiration of one of his most powerful anti-prejudice books: Horton Hears a Who! (1954). Dedicated to a Kyoto University professor he met on his trip, the book dramatizes the plight of the Whos, inhabitants of a planet threatened with destruction unless others (such as Horton) stand up for them. Who-ville facing annihilation suggests a parallel with two Japanese cities facing atomic bombs (dropped by the U.S. in 1945, ending the Second World War).
Seuss wrote The Cat in the Hat because he was worried that children were not learning to read. Rudolf Flesch's Why Johnny Can't Read — and what you can do about it (1955), and John Hersey's "Why Do Students Bog Down on the First R?" (Life, 1954) both said that boring primers like Dick and Jane were a major cause of children failing to read.
William Spaulding, who was then the director of Houghton Mifflin's education division, challenged him to "Write me a story that first graders can't put down!" He asked that Seuss limit the book's vocabulary to no more than 225 different words, choosing those words from a list of 348.
The Cat in the Hat has 236 different words and was an immediate hit. Published in March of 1957, it sold nearly a million copies by the end of 1960. The book's runaway success inspired Seuss, his wife Helen, and Phyllis Cerf to found Beginner Books, a division of Random House that would publish books designed to help children learn to read. When publisher Bennett Cerf bet him that he could not make a book using fifty or fewer different words, Seuss wrote Green Eggs and Ham, his best-selling title.
After Helen died in 1967, Ted married an old friend, Audrey Stone Geisel, who not only influenced his later books, but now guards his legacy as the president of Dr. Seuss Enterprises.
At the time of his death on September 24, 1991, Ted had written and illustrated 44 children's books,. His books had been translated into more than 15 languages. Over 200 million copies had found their way into homes and hearts around the world. His honors included two Academy awards, two Emmy awards, a Peabody award and the Pulitzer Prize.
Treating children with respect was key to Seuss's philosophy of writing for them. As he said, "I don't write for children. I write for people." In an essay published in 1960, he wrote:
"children's reading and children's thinking are the rock-bottom base upon which this country will rise. Or not rise. In these days of tension and confusion, writers are beginning to realize that books for children have a greater potential for good or evil than any other form of literature on earth."
Through the art and poetry of his books, Dr. Seuss encourages us to think creatively, participate in society, and do what we can to make it better.