January 31, 1919

to

October 24, 1972
Jackie Robinson, an outstanding athlete, was the first African American to play baseball for the Major Leagues.
Jack Roosevelt Robinson was born in Cairo, Georgia, in 1919 to a family of sharecroppers. His mother single-handedly raised her five children and they constantly fought prejudice as the only black family in their neighborhood.
As a student at UCLA Jackie became the first student to succeed in four different sports (track, football, basketball, and baseball) at the same time.
Jackie's military career was cut short when he was court-martialed in relation to his objections to incidents of racial discrimination. However, he left the Army with an honorable discharge.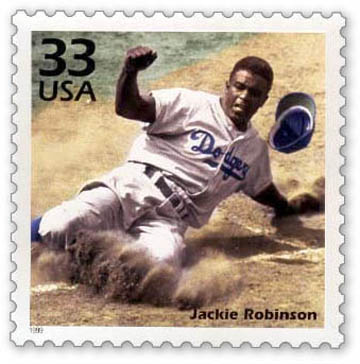 His baseball career started with the Kansas City Monarchs of the Negro Baseball League. Branch Rickey for the Brooklyn Dodgers signed the young, talented African-American player, who made his debut at Ebbets Field on April 15, 1947. His placement in the daily lineup ended almost 80 years of racial segregation in baseball. On the 50th anniversary of his debut, all of Major League Baseball retired his jersey number, 42.
His years with the Dodgers, from 1947 to 1956, were their great years, and Jackie, with his distinctive style of play, was the team's sparkplug. His career marked the beginning of balanced offensive strategies that used footspeed to create runs through aggressive baserunning instead of strict reliance on power hitting. Robinson was one of only two players during his career span to accumulate at least 125 steals while registering a batting average over .425. He accumulated 197 stolen bases in total, including 19 steals of home.
During his career, he was awarded three of baseball's highest honors: Rookie of the Year, Most Valuable Player, and induction into the Hall of Fame. In 1999, he was posthumously named to the Major League Baseball All-Century Team.
Following his baseball career, Jackie became a businessman, a civil rights activist, and a father of three children, Jackie, Jr., Sharon, and David..
He worked for the NAACP and had contact with many leaders, such as Martin Luther King, Jr., Malcolm X, and John F. Kennedy. The example of his character and unquestionable talent challenged the traditional basis of segregation and contributed significantly to the Civil Rights Movement.
He was the first black television analyst in Major League Baseball, and the first black vice-president of a major American corporation. In the 1960s, he helped establish the Freedom National Bank, an African-American-owned financial institution based in Harlem, New York.
Jackie Robinson died of a heart attack on October 24, 1972. In recognition of his achievements on and off the field, Robinson was posthumously awarded the Presidential Medal of Freedom and the Congressional Gold Medal.