February 1, 1902

to

May 22, 1967
Langston Hughes was a prominent African-American poet, novelist, playwright, and social activist best know for his jazz poetry.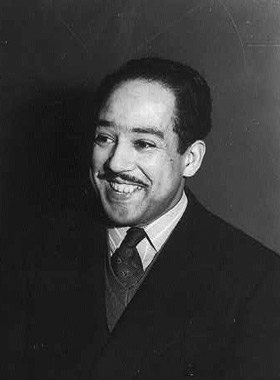 James Mercer Langston Hughes was born in Joplin Missouri. His father left after he was born and he and his mother, who was a school teacher, moved to several different cities before settling in Cleveland. He wrote a poem, "The Negro Speaks of Rivers," in the summer after he graduated from high school. It became his first published poem when it appeared in The Crisis in 1921.
He spent a year at Columbia University, and in the next 4 years he explored Harlem in New York City, worked as a steward aboard an Africa-bound freighter, and made a tour around Europe. He won two different poetry prizes before winning a scholarship to Lincoln University in Pennsylvania, where he earned a degree in 1929. By that time he had published two collections of poetry.
Hughes went on to write 15 books of poetry in his lifetime. He also wrote several novels, short story collections, non-fiction books, and two autobiographies - more than 50 works in total.
Hughes was an important figure in a literary movement known as the Harlem Renaissance. He often wrote about the lives of black Americans and created a form of poetry that invoked the rhythms of jazz and blues music.
Hughes often spoke out against racial injustice and his last collection of poems The Panther and the Lash dealt with civil rights. It was published just after his death in 1967 from an infection following cancer surgery.