February 7, 1807

to

January 26, 1894
Benjamin Waterhouse Hawkins was a natural history artist that became famous for his live-size sculptures of dinosaurs.
Benjamin Waterhouse Hawkins was a natural history artist born in England in 1807.  He studied sculpture at college and after graduation began studying natural history.  His artwork appeared in different natural history works in the 1830's and 40's, including the Zoology of the Voyage of HMS Beagle.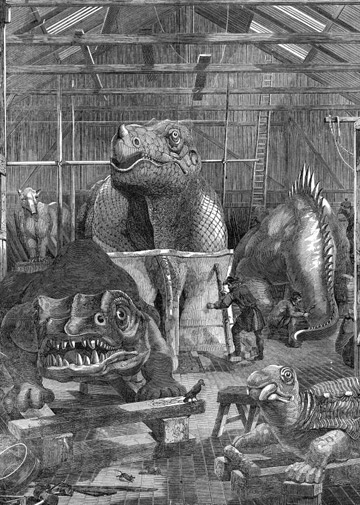 In 1852, Hawkins was commissioned to create 33 life-size concrete models of extinct animals, mostly dinosaurs, for a park in south London where the Crystal Palace from the 1851 exhibition was to be relocated.  Most of the sculptures are still on display in the park.
In the late 1860's Hawkins traveled to the United States and, working with an American paleontologist, designed and cast the skeleton of a dinosaur in a lifelike pose supported by a metal frame.  This was the world's first mounted dinosaur skeleton.   He was commissioned to create a Paleozoic Museum in New York City's Central Park, but his work was destroyed by vandals and the project halted by corrupt politicians.
He created other dinosaur exhibits, including reconstructions and paintings at Princeton University before returning to Britain in 1878.  He suffered a suffered a severe and debilitating stroke eleven years later and died in 1894.