Jerry Pinkney has illustrated over 100 children's books since 1964 and been the recipient of 5 Caldecott Honor Medals and a Caldecott Medal. His books have been translated into 16 languages and published in 14 countries.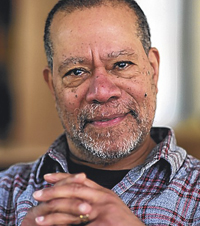 Jerry Pinkney was born in the Germantown section of Philadelphia in 1939, and began drawing at the age of four, following in the footsteps of his two older brothers. He had great difficulty with dyslexia in elementary school but his talent for drawing was useful in building his self-esteem and gaining the attention of his teachers and fellow classmates.
While in junior high school Jerry worked at a newsstand and sketched people as they passed by. This is where he met cartoonist John Liney who encouraged him to draw and attempt to make a living from drawing. Pinkney concentrated on commercial art at the Dobbins Vocational School as a teen, and was granted a full scholarship to the Philadelphia Museum College of Art, where he met his wife.
Upon graduation, he held a variety of positions in the field of design and illustration, including as a greeting card designer. Eventually he founded Kaleidoscope Studios with fellow artists, and two years later he opened his own Jerry Pinkney Studio and focused on illustrating children's books.
Jerry Pinkney has illustrated over 100 children's books since 1964 and been the recipient of five Caldecott Honor Medals, the 2010 Caldecott Medal for The Lion & the Mouse, five Coretta Scott King Awards, and five The New York Times "Best Illustrated Books". His books have been translated into sixteen languages and published in fourteen countries. He has always had an interest in diversity and many of his children's books celebrate multicultural and African-American themes.
In addition to his work in children's books, Jerry has had over thirty, one-man exhibitions and his work has been featured in over one hundred group shows within the USA and abroad. He has illustrated for a wide variety of clients, including the US Postal Service, National Parks Service, and National Geographic Magazine. His art can be found in the permanent collections at the Library of Congress, the New York Public Library, the Delaware Art Museum and the Brandywine River Art Museum as well as in private collections. He has held several professorships, including Pratt Institute, Brooklyn, NY; the University of Delaware, Newark, DE; and the University at Buffalo, Buffalo, NY.
He lives with his wife, author, Gloria Jean in Westchester County, NY. Be sure to visit his official website at www.jerrypinkneystudio.com for more information about his career, his books, and his art.