The first lighthouse in the United States is lit on an island in Boston Harbor, Massachusetts.
Boston Light is located on Little Brewster Island in Boston Harbor, Massachusetts. The first lighthouse in what is now the United States was established here in 1716. In the early days of the American Revolution, the lighthouse was held by the British and was attacked and burned twice. When the British left for good in 1776, they it blew-up.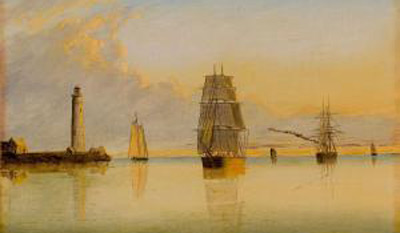 In 1783, the Massachusetts Legislature appropriated funds to rebuild the lighthouse. The walls of the tower, seven and half feet thick at the bottom, thin as they rise. At the original height of 75 feet, they are only 2 and half feet thick. The lantern at the top was 15 feet high and 8 feet across.
Boston Light was ceded to the U.S. government in 1790 and in 1856 the height of the tower was increased to 98 feet and a new lantern was installed.  The U.S. Coast Guard has and continues to maintain the lighthouse. The tower, which is the second oldest working lighthouse in the U.S., was designated a National Historic Landmark in 1964.
Boston Light's first keeper and his family drowned in 1718 when their boat capsized on return trip from Boston. Since then, a long series of keepers have kept the lighthouse and assisted those whose boats have wrecked on the rocky ledges nearby. Even though the light was automated in 1998 a resident keeper still lives on the island.