August 7, 1866

to

March 9, 1955
As trail breaker for the Robert Peary Expedition, Henson was one of the first men, if not the first man, to stand on the Earth's north pole.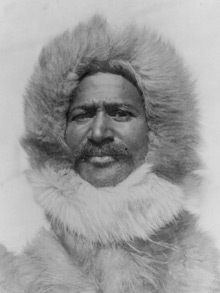 Matthew Alexander Henson was born in Maryland in 1866.  His mother died when he was two and his father, Lemuel Henson, soon remarried.  His father died six years later.  Henson's step-mother beat him and when he was eleven he decided to run away after a beating left him bedridden for 3 days.
At the age of 12, Henson signed on as a cabin boy aboard a merchant vessel, the Katie Hines. Captain Childs took a special interest in Henson and taught him about literature, mathematics, and navigation.  This education served him well throughout his life.
In 1887, Henson was hired by a Lieutenant Robert Peary to be a "man servant" for a canal route survey in Nicaragua. Almost immediately after the team reached the field Peary recognized Henson's remarkable skills and promoted him to be part of the transit crew.  For the next 20 years, Henson would be Peary's "assistant", friend, and partner in exploration.
On April 6, 1909, Henson became one of the first men, if not the first man, to stand at the Earth's north pole.  As the trail breaker for Peary's expedition, he arrived at the pole about 45 mintues before Peary.
"As I stood there at the top of the world and thought of the hundreds of men who had lost their lives in the effort to reach it, I felt profoundly grateful that I, as the personal attendant to the Commander, had the honor of representing my race in the historic achievement."

Matthew Henson in The World's Work Magazine, 1910
Following the final artic expedition, Henson was awarded a life position with the Customs Service. He worked there until retiring at the age of 70. He received numerous awards and recognitions later in life, including a commendation by President Eisenhower in 1954.
Henson died on March 9, 1955 and was buried in Bronx, New York. Henson's remains were later moved to Arlington National Cemetery, where he was reinterred next to Robert Peary