Martin Luther King, Jr. delivered his now famous "I have a dream" speech from the steps of the Lincoln Memorial in Washington, DC.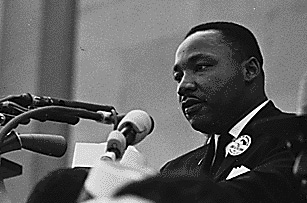 Few speeches made in the United States during the twentith century have had the enduring impact of Martin Luther King, Jr.'s closing remarks for the March on Washington on the afternoon of August 28, 1963.
In the 1960's, the Civil Rights movement in the United States organized several marches to protest segregation and other discriminatory practices. During one of these in Birmingham, Alabama, officials ordered the use of water cannons and police dogs to stop the peaceful marchers, which included children. Publicity on the event helped force city officials to concede to some of the marchers' demands. It also brought national media attention to Civil Rights leader Martin Luther King, Jr.
Following the events in Birmingham, King helped organize a massive "March on Washington for Jobs and Freedom". Thousands of people marched across the Washington Mall from the Washington Monument to the Lincoln Memorial. Assembled at the Memorial, they listened to songs and speeches.
The final speech of the day was delivered by King:
… I have a dream that one day this nation will rise up and live out the true meaning of its creed: "We hold these truths to be self-evident: that all men are created equal."

I have a dream that one day on the red hills of Georgia the sons of former slaves and the sons of former slave owners will be able to sit down together at the table of brotherhood.

I have a dream that one day even the state of Mississippi, a state sweltering with the heat of injustice, sweltering with the heat of oppression, will be transformed into an oasis of freedom and justice.

I have a dream that my four little children will one day live in a nation where they will not be judged by the color of their skin but by the content of their character.