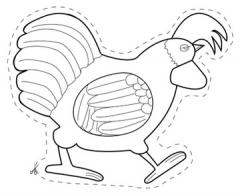 This is an activity I have used in my classroom Picture Book Place.
Download, then print out or make a copy of the pattern for each student.  Have students color and cut out a picture of a hen to make a puppet of Rosie. I use half of a business envelope upside down on the back of the picture as a pocket for small hands to hold the figure. 
Adverbials of Place
Have students demonstrate adverbials of place around the room using phases like: over your head, under the chair, between your legs, beside the desk.
Students can work in pairs where one holds puppets of Rosie and the fox and the other answers with the name of the characters and their locations in a complete sentence. For example, "The fox is behind the hen." or "Rosie is in front of the fox."