Jan Brett lives in a seacoast town in Massachusetts, close to where she grew up, with her husband, Joe Hearne, who is a member of the Boston Symphony Orchestra, and Buffy, her pet hedgehog.
As a child, Jan decided to be an illustrator and spent many hours reading and drawing. As a student at the Boston Museum School, she spent hours in the Museum of Fine Arts. She continues to be inspired by the variety and wonder of museum treasures as well as everyday things.
Early in her career she began to incorporate exuberant colors and minute details in her work to create belief in the imaginary places she has drawn. Jan believes that including odd little commonplace things along with more significant details make a story come alive for the reader. A unique addition to many of her books are the illustrated borders in her artwork that show readers what will happen later on in the story.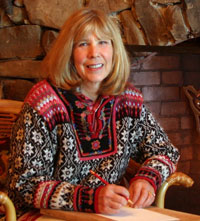 Travel is also a constant inspiration. Jan has visited many different countries where she researched the architecture and costumes that appear in her work. "I study the traditions of the many countries I visit and use them as a starting point for my children's books."