Byrd Baylor is an American author of award-winning picture books for children.
She was born on March 28, 1924, in San Antonio, Texas, and went to schools in Tucson, spent time on West Texas ranches and in Sonora (Mexico) gold mining camps. Today, she lives outside Arivaca, Arizona, in high Sonora desert. Her solar-powered adobe house was built over 25 years ago. She has no hot water and a generator for the little electricity she uses. She works on yellow legal pads or one of her 3 manual typewriters. She gets her news from a portable radio and friends drop off mail and newspapers at a cafe six miles away a couple of times a week.
Her first children's book, Amigo, was published in 1963. Most of her books are rhythmic prose poetry but she says, "That first one was in rhyme. It was about a prairie dog. The publisher asked me if I would make it a squirrel. I said no."
"I have written 25 or so children's books, a novel, lots of essays and articles, All of them relating in some way to my passion for the desert southwest, its landforms and its plants and animals and people, and always its power." Inspiration comes from the daily treks she takes in the desert. "I have learned so much by walking or just sitting on a rock."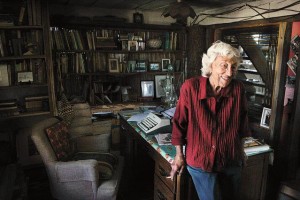 She was awarded Caldecott Honors for her books When Clay Sings (1973) with illustrator Tom Bahti, and The Desert is Theirs (1976), Hawk, I'm Your Brother (1977), and The Way to Start a Day (1979) with illustrator Peter Parnall.