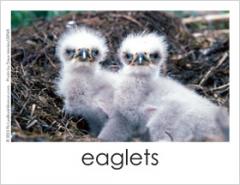 This set of photo cards features photographs adult and baby birds including chickens, ducks, geese, owls, robins, turkeys, eagles, and robins.  Photo cards can be used for many sorting, matching, and social studies activities.
Preparing the cards
Each photo card set includes sixteen 4.25 x 5.5 inch cards of related images. Copy or print off the photographs on white tagboard or heavy photo paper.  Cut out the cards to the same size.  Laminating the cards will help them hold up better for long-term use. 
You can store them in (Ziploc® or similar) clear plastic storage bags labeled with the purpose for the set and the number of cards included.  This works exceptionally well if you are combining cards from different set for use in learning stations of matching games. You can also store sets in photo boxes with divider tabs or three-ring binders with page protectors.
Using the cards
Photo cards can be used for many sorting, matching, and vocabulary activities in different subject areas.  This set is particularly useful for:
Creating a learning station where students match the adult animal with its baby.  You can use symbols or stickers on the back of the cards to allow for self-checking.
Practicing alphabetizing: put all the cards (or a smaller group of cards) in order.
Practice sorting by challenging children to sort animals into groups: adults vs. babies.
Find more ideas of how to use photo cards in a article elsewhere on this site.
See our complete listing of available photo cards for other sets.